Environmental site assessment (Phase 1)
The purpose of the Phase 1 environmental site assessment (ESA) is to determine, through a review of records and a site visit, whether a property is contaminated or likely to become contaminated. No soil or groundwater sampling is done during a Phase 1 ESA.
The review of records pertaining to the property will provide a basis for establishing the site and area history, while the site visit will help to identify the presence of activities or facilities on the site and in the surrounding area that may potentially affect the quality of the ground and groundwaters.
All Phase 1 ESAs conducted by our firm are CSA Z768-01 compliant and supervised by a Certified Environmental Site Assessor (EESAtm) of the Association québécoise de vérification environnementale (Quebec association of environmental auditing, or AQVE). Phase 1 ESAs are also certifiable under Division IV. of the Environmental Quality Act.
At the end of the mandate, you will be provided with a technical report containing gathered data as well as findings and recommendations.
Essentially, a Phase 1 Environmental Site Assessment is intended to:
Gather available information on the property being assessed and on surrounding lands, which will provide a basis for the history of said property and the surrounding areas.

Assess, using this information, whether activities were conducted or facilities existed on the premises and the surrounding area that would represent a risk of contamination to the surveyed property.

Identify, where appropriate, areas likely to be contaminated as well as potential sources of contamination.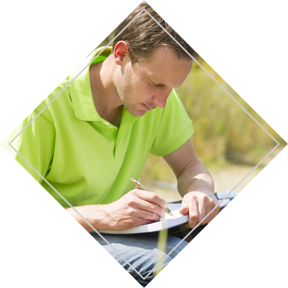 Learn more about the next phases (2 & 3)
Environmental characterization
Testimonials
Altera sententia est, quae definit amicitiam paribus officiis ac voluntatibus. Hoc quidem est nimis exigue et exiliter ad calculos vocare amicitiam, ut par sit ratio acceptorum et datorum. Divitior mihi et affluentior videtur esse vera amicitia nec observare restricte, ne plus reddat quam acceperit; neque enim verendum est, ne quid excidat, aut ne quid in terram defluat, aut ne plus aequo quid in amicitiam congeratur.
Ultima Syriarum est Palaestina per intervalla magna protenta, cultis abundans terris et nitidis et civitates habens quasdam egregias, nullam nulli cedentem sed sibi vicissim velut ad perpendiculum aemulas: Caesaream, quam ad honorem Octaviani principis exaedificavit Herodes, et Eleutheropolim et Neapolim itidemque Ascalonem Gazam aevo superiore exstructas.

Has autem provincias, quas Orontes ambiens amnis imosque pedes Cassii montis illius celsi praetermeans funditur in Parthenium mare, Gnaeus Pompeius superato Tigrane regnis Armeniorum abstractas dicioni Romanae coniunxit.
Any questions?
Contact us. We will gladly provide you with advice and solutions to your problems.