Erosion control and soil bioengineering
The purpose of soil bioengineering is to stabilize and mitigate erosion issues, structure steep slopes, revegetate disturbed sites and decontaminate soil through planting.
Our environment consulting firm offers various services such as:
Steep slope and landslide management.

Wetland characterization.
Environnement PH inc. can see to the characterization of wetlands, participate in the event of landslides, and implement erosion control measures as well as sediment control methods.
Protection of backfill and soil piles.

Installation of impervious membrane, geomembrane and mulch.

Installation of silt fences.

Installation of flotation and filtration collars.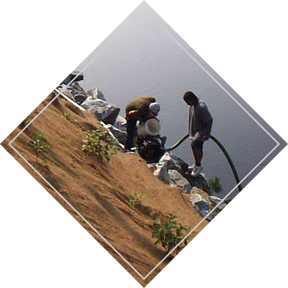 Limiting the impacts of a construction site!

Implementing a sediment control program can reduce the impact of a construction site at its root.
Contact us to learn how we can help you set up a sediment control program tailored to your needs.
Learn more about other Environnement PH services.
Any questions?
Contact us. We will gladly provide you with advice and solutions to your problems.